| | | | | | | | |
| --- | --- | --- | --- | --- | --- | --- | --- |
| | In this Section: | | | In the Spotlight | | News | |
List of "In the Spotlight" Features
ACES Student Kayakers Collect Plastic Debris in the Russian River Estuary
ACES teacher, Mrs. Grima-Lowe and her 7th grade students from Willowside Middle School in Santa Rosa California recently paddled the Russian River on a kayaking adventure. Students explored the section of the Russian River estuary from Jenner, where they put in, to the mouth of the river, where it meets the Pacific Ocean. A naturalist and river guide helped them explore Crab Island, where students put their ACES training to work.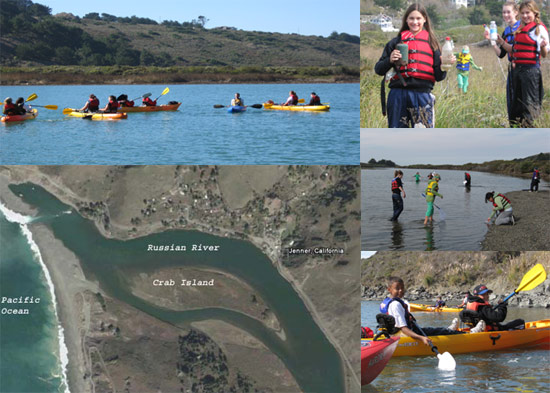 While paddling the river and exploring Crab Island, students collected as much debris as they could, doing their part to help clean up the river. As collected plastics and other trash accumulated, students developed a first-hand appreciation for the amount of trash that makes it way to the ocean through watersheds. One student commented, "I got to actually see the environmental issues instead of just reading about it. It's a lot easier to grasp something when it's surrounding you." Another student said, "If I could I would go every weekend to the river and kayak all the way to Crab Island and pick up plastics."

While on Crab Island, they also looked for evidence of wildlife. They found and identified animal scat which they used to search for animals. Students collected and identified arthropods and conducted water quality testing. All the data collected during the trip was complied into a graph which was discussed and analyzed back in the classroom.

One highlight of the trip was seeing harbor seals at the mouth of the estuary. Students watched as the seals swam nearby catching salmon that migrate up the river in the fall to spawn. They discussed the food web of the estuary, from microscopic organisms to massive marine species. Students learn in ACES that migrating whales depend on large aggregations of krill at the mouth of the estuary. Students experienced and discussed the variety of organisms that live in the Russian River estuary and many of them became passionate about the affect that plastic debris has on the marine ecosystem. When asked about her experience on the river, one student noted, "I learned what field work is all about and I learned more about marine animals that I knew before." Another student said, "I believe that this trip gave students an idea of how much plastic ends up on land and therefore made students more aware to not litter."

Carol Keiper, marine ecologist and co-founder of Oikonos, visited Mrs. Grima-Lowe's classroom shortly after the kayaking trip and gave a presentation on plastic debris, specifically their effect on Albatross. Oikonos is a non-profit organization that focuses on conservation and education. Students were able to make connections between the plastics that they collected on their kayaking trip and the harbor seals, albatross and other marine species.

Had students not removed the plastic debris that they found while kayaking, it most likely would have made its way to the Great Pacific Garbage Patch, a huge blanket of debris that floats in the middle of the ocean. The "patch" is the size of Texas and grows as non-biodegradable debris flows into the ocean from rivers and streams, like the Russian River. Researchers estimate that there is 6 pounds of plastic in this region of the ocean for every one pound of plankton, the microscopic organisms that support the marine food web.

In reflecting on their kayaking trip and Mrs. Keipers presentation, Mrs. Grima-Lowe's students were most concerned about the negative effects of plastic debris. Many of them developed public service announcements to share with their school. Mrs. Grima-Lowe said that her students "have pride in what they are doing with their public service announcements and understand the importance."

While students continue with their ACES expert research reports, wall charts, and journal entries, Mrs. Grima-Lowe has plans to work with local scientists and universities to give her students an opportunity to learn and make a difference in their marine environment.