2007 POETRY CONTEST WINNERS Announced!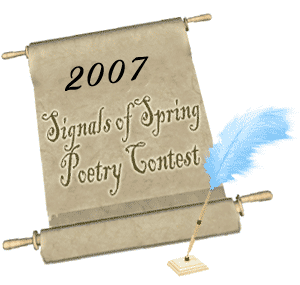 June 04, 2007 - CLICK HERE FOR SPRING 2007 WINNERS!

Channel your creativity and win a prize! The 2007 poetry contest is here! Identify an animal or species and write a poem about it. You may want to research some characteristics about the animal or the habitat it enjoys. You may like to explore and write about the issues that the animals face.

Submit your poems to:
poetrycontest@signalsofspring.net (Note: Email address will no longer be valid after deadline.)

Please be sure to include your name and teacher's name with your entry.

The deadline is May 14, 2007.

Good luck!